No setup fees. No monthly fees.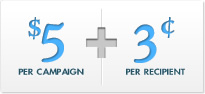 With Mail Maximizer pricing is really rather simple - you only pay when you send an email campaign to more than 5 people. That's it.
No setup charges
No monthly costs
Just a flat delivery fee of $5, plus 3 cents for each recipient
So, to send an email to 500 people would cost $5 plus (500 x $.03), just $20.